Tiny House Plans

Two-bedroom tiny house, designed and built by a single-mom in California.
About the Plans:
These Tiny House Plans were created to illustrate Shalina's Original Tiny House Design in a way that's easy to understand for both DIYers and experienced builders, with 20 pages of detailed drawings, notes, and reference photos. The home was designed by graphic designer, Shalina Kell, for herself and her teenage daughter with long-term living in mind, boasting two enclosed bedrooms for privacy, a full kitchen and bathroom with all standard appliances and laundry facilities, plus making use of almost every extra square inch for storage space. The high ceilings and windows in the main living area make the space feel open and spacious.
Tiny House Features:
350 sq ft usable space
2 enclosed bedrooms
13' x 8' living room with 11' ceilings
Full kitchen with all appliances
Full bathroom with bathtub
Laundry area with vented dryer
Ample storage in all rooms
Simple Floor Plans (detailed floor plans included in purchase):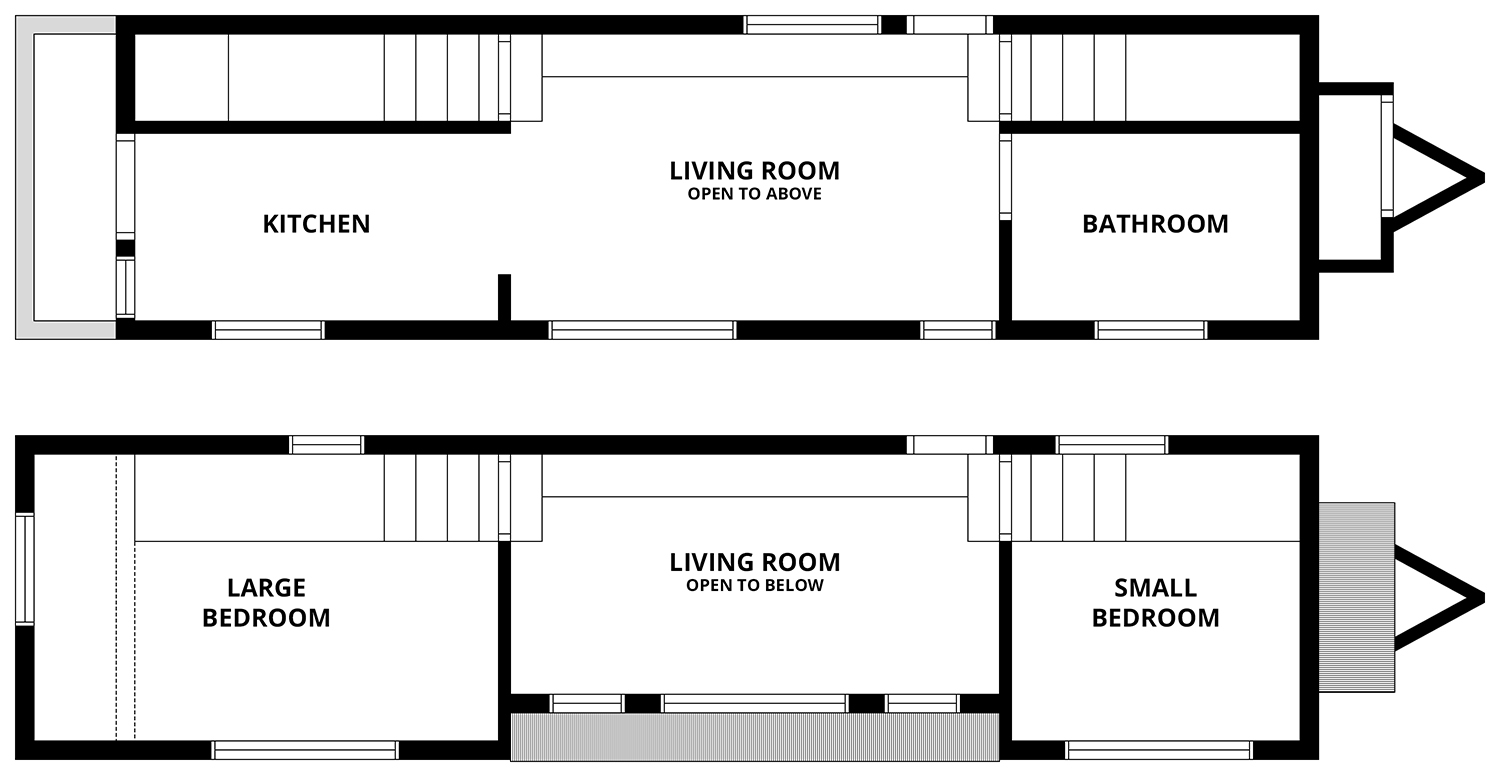 Simple Exterior Elevations (detailed elevations included in purchase):

Approximate Specs: 350 sq ft, 13' 3" height, 8' 6" width, 34' 8" length (w/out tongue/storage), 32' trailer length
Plans Include:
License to build ONE tiny house based on Shalina's Original Tiny House Design
20 – 11×17 pages of architectural drawings, notes, and photos including:

Foundation plan (trailer)
Floor plans (lower and upper)
Electrical plans (lower and upper)
Elevations (left, right, front, back)
Roofing plan
Seven pages of other detail drawings
Two full pages of general notes and materials
Reference photos
Plans DO NOT Include:
Plumbing plans, although fixtures are noted. Recommend hiring a licensed professional.
Detailed plans of built-in furniture and storage. Photos included for reference.
Full materials list, although most materials are mentioned in the notes.
A professional stamp for construction. Recommend hiring licensed professionals.
PLEASE READ BEFORE PURCHASE:
The Plans will be delivered as a digital PDF via download and NOT a hard copy. Purchase includes permission to build ONE structure based on Shalina's tiny house design. These Plans are not for Commercial Use. If you're a contractor and would like to talk about using this design for your business, please contact Shalina before purchasing. Due to the nature of this as-is digital product, ALL SALES ARE FINAL and there will be no returns or refunds.
Please read the full End User Agreement HERE before purchasing.
BUY NOW
Pricing in US Dollars.
---
Where to Buy Your Trailer:
This house was designed to fit the specs of the trailer I purchased from Tiny House Basics. Josh was really helpful, explaining all the technical terms and what I would need in order to go above and beyond my requirements. I ended up choosing a 32 x 8.5 foot trailer with three 7k axles. Keep in mind that at this size and weight you may have to hire someone with a Class A license and/or obtain permits to move your tiny house. Check with your local laws.
A full list of trailer specs are included on the first page of the Plans.
Click the coupon below to get a custom quote from Tiny House Basics.

NOTE: If you choose to go with a different trailer than I purchased, you will need to make the necessary adjustments to the plans. Keep weight, height, and width requirements in mind.